What student athletes have to say about Covid-19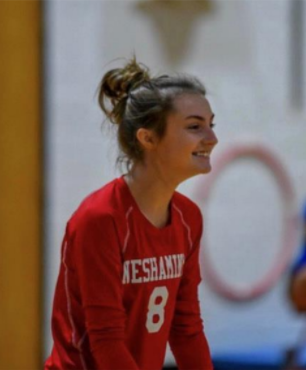 The Covid-19 pandemic has affected every single aspect of life and changed the lives of everyone. Isolation, mask-wearing, and the limitation of social gatherings have all been major consequences of the virus and have perpetuated this new way of life we now live. 
With these new changes come new emotions – fear, anxiety, even laziness. Many people are worried about their jobs or whether or not we will go back to school. However, some students are focused on a different aspect of their life taken away by Covid-19: sports. 
Sports worldwide have been put on hold or have just begun to come back with restrictions, as Covid-19 precautions were taken to ensure safety, and it is no different in our very own high school and high schools all around the world.
After the world shut down on March 13, spring sports, including lacrosse and tennis, never finished their season, and fall sports that started at the beginning of the 2020 school year were extremely limited and modified. With shortened seasons, teams scrambled to fit in summer workouts before tryouts, and practices before games, with many athletes saying it just isn't the same. 
Girls volleyball was delayed slightly due to the push back of school this fall. Players have to wear a mask everywhere except when playing on the court. No spectators are allowed, and players have to do a Covid-19 screening before entering the gym.
Varsity player Julianna Mazzoni says that the restrictions have added stress to the season, overwhelming her and her teammates. She also says that even though she is grateful even to have her season, the needed modifications and restrictions have affected the team bonding and friendships usually made throughout the season due to the masks and low energy levels due to no spectators. Although she said the modifications were very effective, she still felt fear of catching the virus because of how strictly enforced the rules are. 
Julianna said, "It also makes me sad because I will never get to experience my full years of playing the sport with all my heart since the restrictions have overall distracted me from the game." 
Similar to most athletes, Julianna and her teammates are thankful to play their sport, however, it's just not the same. Even though they are trying to make the best of the situation, fear and sadness are still prominent. 
Similarly, girls tennis, another fall sport, has again been delayed because of Covid-19. The girls scrambled to fit in two weeks of morning workouts before tryouts and then the first match a week and a half later. Varsity player Kylie Marozsan says that she and the rest of the team were grateful to have their season even with the restrictions. She said that since tennis is a pretty socially distant sport, following the guidelines was not the end of the world. However, it was stressful and aggravating when some people refused to follow the guidelines of safe play. 
Sports is a way to bring teammates together and even make lifelong friends, and Kylie says this year may have even made her and her teammates closer. 
Kylie said, "Understanding that this time is hard for everyone, I think that it brought my teammates closer together, for the support of one another, and the love of the game." 
Although their season was cut short and masks had to be worn at all times, tennis members said it was all still worth it. 
"We were all so worried about the season being taken away completely that we would take running in our masks over not playing at all." 
Many high school athletes share feelings of fear and even frustration with the sports restrictions of professional athletes. Pro sports are no different as they are also experiencing modified schedules, mask and social distancing rules, and even "the bubble". 
The MLB shortened their season to 60 games instead of over 100, leaving staff, players, and even fans frustrated and disappointed. With limited to no live fans, all athletes are feeling low levels of energy. The fear aspect also plays a significant role in the athletes' season, with many players choosing not to participate out of fear. 
In the MLB, several high valued and highly paid athletes opted out, including Ryan Zimmerman (Nationals), David Price (Dodgers), and Buster Posey (Giants). The other pro sports leagues also saw athletes opting out, including Marquise Goodwin (Eagles), DeMarcus Cousins (free agent), Tobin Heath (Thorns/WNT), and Megan Rapinoe (Royals/WNT). 
Although there is a need for normal play, everyone is going through it together, whether high school students or pro athletes. Everyone can agree that we want life to go back to normal with no more online school or masks, regular social gatherings, and sporting events. 
Although pro sports may be taking drastic measures to ensure safety that has caused unwanted emotions, high school athletes of all sports, even here at Neshaminy, are experiencing similar repercussions. Hopefully, we will be able to look back on this time and recognize that the changes and modifications made will lead to many more years of normalcy.