Neshaminy students gather to donate blood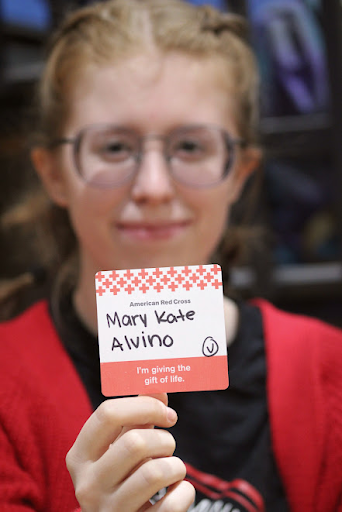 On December 16, Neshaminy High School's National Honors Society held its semi-annual blood drive for the American Red Cross Association. Students filled Gym 3, eager to support the life-saving cause.
In the weeks leading up to the event, National Honor Society members visited homerooms to spread the word and handed out forms to those interested. 
The event was incredibly successful, ending up with 103 donors, meaning that a potential 309 lives could be saved just from Neshaminy students.  
The importance of this event is not to be underestimated. According to The American Red Cross, as every two seconds passes, an American is in need of blood. A single blood donation can save up to three lives. NHS student, Mary Kate Alvino, donated blood for this purpose. 
"I really wanted to volunteer for the blood drive because I know that my blood could be used to save someone's life," Alvino stated. "I really want to be a part of that if I can be."
National Honor Society advisor, Kim Kelley, is intentional with the times of year she chooses to hold these blood drives. 
"We have two blood drives here, and we pick those strategically because December and the holiday season-then April into May- really Memorial Day weekend, tend to be the highest accident rates in our area," Kelley explained.
Neshaminy has held 27 blood drives, and if 70 people participated in each blood drive, the minimum number of lives that Neshaminy students have saved would be a whopping 1,890!
Overall, the Neshaminy student body has been giving the gift of life for 12 years now, and can only hope to keep this positive force in our school a tradition for years to come.