Neshaminy track team left trackless as November construction ensues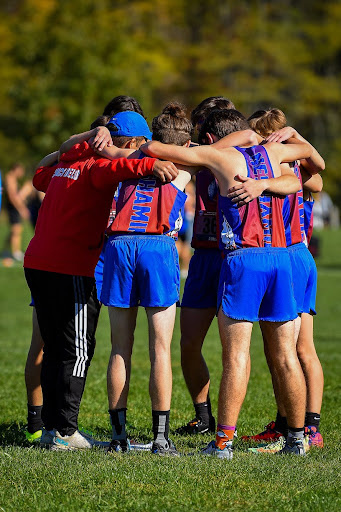 LANGHORNE, PA – With the conclusion of fall sports, Neshaminy High School's construction has fully commenced- forcing the track team in particular into a disadvantageous situation, stripping the team of a suitable track to run and train on.
For a team full of aspiring goals for the winter and spring seasons, not having a track has already significantly affected runners' training.
"It's preventing us from really doing these shorter distances that would help our speed," an anonymous member of the distance team said. "Since it's not cross country [season] anymore, the 5K workouts that we have to do because we don't have a track, they're not really going to help us."
The lack of a track challenges the entire track team, but the team knew these changes were coming. According to Tom Sofield of Levittown Now, NHS has planned for these renovations since May of 2021, and it was estimated the project would cost approximately $13 million. 
John Fey of BucksCo.Today quoted superintendent Dr. Rob McGee, who declared, "we're not going to interrupt a single football game. … We're going to have the stadium through Nov. 1."
However, even with the knowledge of the now active construction, it has frustrated some members of the track team.
"I think they should've started it in the summer … They're spending a bunch of money- like millions of dollars on it, so I feel like the little money compared to what they're gonna get from the football games is irrelevant," the same distance member said.
Some members of the track team, such as the anonymous distance member, believe it was unfair that the construction was postponed for the four football games as it prolonged the amount of time the team would be without a track, potentially being the entire year. 
Fortunately, the team has adapted and developed a newer strategy for the winter season.
"We're just going to have to do more runs in general, less workouts, and more focused on aerobic exercises," the distance runner stated. 
 Adapting and developing this newer strategy can be primarily credited to distance coaches Shawn De Los Angeles (commonly known as coach Delo or just Delo) and Eric Chapman. 
"We've been pretty creative in trying to do what we need to do to help improve and keep fitness and endurance and strength," Delo said. "So, utilizing the front lawn is very helpful, utilizing the neighborhoods when we can, and utilizing the soccer fields has been very helpful too. It's not exactly like we want, but it's a good way of maintaining the strength and conditioning we want."
     While the construction and removal of the track stripped the track team of many practice and training methods to maximize the team's potential, Delo and Chapman have operated creatively to utilize the nearby facilities. 
Utilizing the nearby areas of the school has provided a basis for workouts and practice, but the team, including coaches, is hoping they can gain access to an actual track to hold speed-oriented workouts.
     "I know [in] the winter we will not be anywhere, and we will be creative as ever during winter and for the most part for spring too," Delo said. "There has been discussion that there may be days we can go to Sandburg and Maple Point, [but] there's no other place at the moment that we know of that we can go… maybe some of the local schools will be willing to allow us on days, but there's no guarantee of that either, so it's kind of a wait and see."
     Even with aspirations to go farther off campus to train speed, the Maple Point and Sandburg tracks aren't the best for speed workouts, as they aren't legitimate track material which makes it difficult to run at intense speeds.
Whether the team can gain access to a track or not, which would be especially beneficial to the sprinters who don't run longer distances outside and can't sprint much indoors, the only thing the track team can hope for is access to a track later in the spring season and for the construction to go smoothly and successfully. 
According to Peg Quann of Bucks County Courier Times, the construction includes renovations to the stadium, a turf field, baseball and softball field improvements, and potentially eight lanes compared to the original six-lane track.
"I hope that the fact it's being pushed back makes sure it's done right the first time… It'll be here 20-30 years, so hopefully it's done right and [won't] have to be redone," Delo said. "We hope that everything is the highest quality possible so we can be the best program [we] can be.