Swim team dyes hair preceding path to championships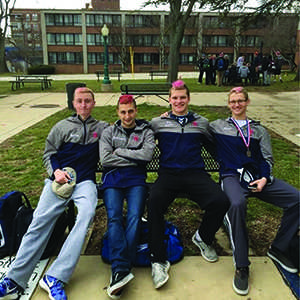 Swimming may seem like an individual sport when it comes down to specific relays, yet the Neshaminy swim team brings forth a bond that makes it seem almost impossible for it to not be a team sport.
In 2011, a hair dying trend created by Mike Joseph and Ryan Kaisinger came into play for the team specifically in celebration of the Suburban One League championships and districts. In this tradition, male swimmers cut their hair into mohawks for the SOL and dye it pink for districts, while female swimmers dip dye their hair red for both meets.
"Hair is just hair, it grows back in a month, and I don't really care what people say about me," sophomore Chris Elliot said. "I love the team and I'll be able to look back and laugh at all of us buzzing our hair off and dying it pink. Swimmers are weird, you can't expect anything less from us."
Last season a number of members qualified for districts following prior senior David Kneiss who made it into states breaking three school records: the 200 yard freestyle, the 100 yard backstroke, and the 400 freestyle relay along with senior captain Josh Hartley, Mike Kalika, and John Stay.
"I think it's a great tradition it's fun to represent the team," Hartley said. "It kind of shows us as a brotherhood."
Making it into districts isn't as easy as it sounds- 55 school districts compete to fill about 45 spots per event. Each one of these 55 districts use four swimmers per event. This totals out to over 200 athletes competing for just 45 spots.
"Swimming is something that requires long hours of training and I think kids begin to feel more like family when they go to a big meet where there is an expectation of success in the end of the season," Head Coach Brian Suter said. "They know they're not swimming for themselves, they're swimming for the better[ment] of the program."
With practice before school three times a week and after school six times a week, preparation for districts never comes easy. The team also faces the disadvantage of not having a swimming pool within the high school. The team has to travel to Carl Sandburg to practice, using the school for its pool. This is something no other school within the area has to face except Bensalem High School. Typical before school practices consist of workouts at the hub, and after school is non-stop swimming.
"That's [another] tradition they do- the tradition of hard work is really embedded in the kids," Suter said. "It's really a deliberate hard effort that they put in everyday so I think our tradition of hard work is really evident."
The team is currently 3-9 and intends on continuing their traditions as they swim their way to SOL's and districts.