Valentine Date Ideas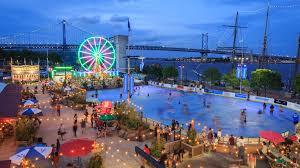 Love is in the air, as February approaches, avoid settingling for just another boring date!
  With Valentine's Day approaching, many people have begun to wonder, where would be a good place to go on a date? While there are endless possibilities, deciding on just one can be hard. However, a few places stand out especially those hosting special events keeping the holiday in mind.
 Valentines Day may not seem that big, but in fact more than 55% of Americans celebrate it and they send over around 145 million valentines cards each year!
  So, here are four perfect places to go for a date:
1. A movie and dinner, OR if you're willing to take a drive to Allentown, Pa you could have an all for one at the Trexlertown Movie Theatre which offers food from a chef-driven menu that's delivered directly to your recliner seats.
2. Ice skating at the Blue Cross RiverRink in Philly, and join them for their Sweetheart Skate event on Valentines Day. They have three different sessions, and a purchase of a ticket guarantees chocolate, flowers, and a cute keepsake photo!
3. A trip to Peddlers Village that in honor of Valentine's Day will be hosting many candy-themed events, special promotions, and new menu items at some of the restaurants located within. A perfect place to walk around, shop, and eat as their are plenty of different shops and restaurants to visit located in New Hope, PA.
4.  A beautiful display of orchids will be exhibited at Longwood Gardens on Valentine's Day along with live music from violinist Ann Fontanella. This event is known as their Orchid Extravaganza, and is definitely worth the trip to Chester County, PA.