Chris Arcidiacono lives up to his name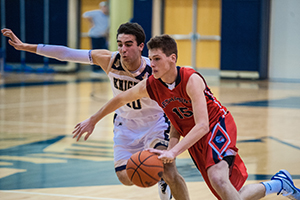 On a Friday night in February, a season ended for one team. The Neshaminy boys' varsity basketball team fell to Penwood in heartbreaking fashion. Losing the lead in the final minutes and letting a chance to face off against arch-enemy Pennsbury in the next round of the playoffs.
The season was not a failure, however; it actually was one of the biggest successes in the program's history. This newfound success can be credited to breakout SOL superstar Chris Arcidiacono.  Students know him as Villanova's prior point guard, Neshaminy legend Ryan Arcidiacono's little brother. But this year "Little Arch"  broke out of his older brother's shadow and established his own presence.  
He started the season on an incredible hot streak, averaging over 20 points a game. Most around the school and the district viewed this as just a hot start, but it was not. He was able to keep up the monster numbers the whole year.
"I realized that it wasn't just a hot streak after the game at Bensalem when I scored 38 points and led us to a win," Chris said. From there he led Neshaminy into their first playoff appearance since his brother Ryan played.  
A reputation based on being someone's brother instead of your own merits can always be tough.  "It was really hard always thinking I had to live up to him. I shook it off with the help of my parents and Ryan telling me I'm my own player and should be the best I can be," Chris said.
Along with an increase in wins and statistics, Chris is finally getting something he has dreamed about for as long as he can remember – a chance to play Division I basketball.
"It's just awesome knowing that all the work I put in is paying off," Chris said.  With scholarship offers from Rider University and Eastern Kentucky University as a junior, he will have a chance to play high-level basketball. After receiving his first scholarship offer from EKU, a lifelong dream became more likely.  "I couldn't stop smiling with joy," Chris said.
There is no time to rest on his laurels, however.  Each day during the off season he has been working out in order to improve his game. "I just think about other kids getting ahead of me if I'm not always working out," Chris said.
It is not just about Chris, though; the Neshaminy varsity basketball team is loaded with soon-to-be seniors, looking to make a serious push next year. "My goal for the team is to get a first round bye in the district tournament," he said.