Despite obstacles, track team holds high standards for season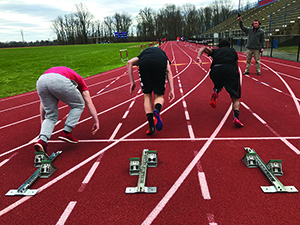 After heavy snowfall in the midst of spring and unpredictable temperatures, Neshaminy spring sports have been struggling to practice. Track coaches have been forced to move their practices indoors in order to keep the season moving.
"We've been forced to get creative with our practices and do our best training our athletes indoor," Shawn DeLosAngeles, track coach, said. "All that running on hard surfaces can lead to injuries, so avoiding this is the key."
Despite the change in practice environment, the team has stayed persistent and continued to practice to the best of their ability. The coaches have continued to train their team with difficult workouts.
"The team endures challenging workouts that are designed to prepare them both mentally and physically," DeLosAngeles said. "We work on form, technique and do our best to motivate our athletes to strive for more each day. It is our job to put our athletes in the best position possible to compete at their highest level."
The season has not been delayed and the team had its first meet of the SOL schedule against Council Rock High School Wednesday, March 29. They have kept their goals to high standards and hope to accomplish them by the end of this season.
"Our goal for both teams is to compete for an SOL title each year," DeLosAngeles said. "…but outside of working together as a unit to do that, we aim to teach athletes form and technique in events they can excel at, have our athletes earn personal best performances in every time out, get several individuals and relays teams to qualify for the District I Championships, and have several of those team members earn a spot to compete at the PIAA State Championships in Shippensburg at the end of May."