Neshaminy alive with the sound of music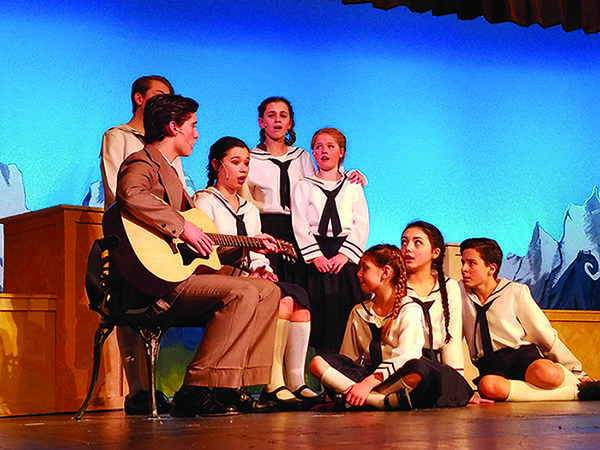 Advertisement
The doors close behind the audience, and suddenly they are transported to World War II era Austria, where a playful nun named Maria sings her heart out on the hilltops. This is the beginning of Neshaminy High School's production of "The Sound of Music." The production premiered on the night of Thursday, Feb. 2.
Ever since the auditions for the show in the middle of October, the cast has been working nearly every day after school to perfect every detail. Each after school rehearsal took place from 2:30 to 5 p.m., and there were also some evening dress rehearsals during the week of the play and occasional practices on the weekends.
"We picked the show in the summer," said Kristen Nichols, one of the choir directors and the head of the music of the play. The drama department was very excited to choose "The Sound of Music" and the teachers and students were eager to begin working on it.
The school musical is an activity that all types of students can be involved in. Some of them are very involved in the choir program, while others are more interested in acting without singing and dancing. The show also has live music performed by a pit orchestra consisting of band and orchestra members.
The students chose what character they wanted to audition for, which meant they could audition for a role based on their interests. "I've always been much more of an actor than a singer or dancer, I think," said sophomore Michael Russo, who played the role of Franz, the butler of the von Trapp family. "I auditioned for Franz because he is one of the characters that doesn't have to sing or dance."
Many of the students that did not get a leading role in the play were still able to be involved by being part of the company. Most of the girls that auditioned got the role of a nun; they sing in the beginning of the play and towards the end. Some of the males that auditioned got placed as company members in scenes such as the party at the von Trapp household.
Everyone, from the company, to the leads, to the teachers, was ecstatic to perform the musical. "I hope [the audience] just truly enjoys it, because I enjoy working on it," Russo said. "And we really put a lot of hard work into it, so I hope it pays off."
Nichols too is excited to perform this amazing show for the audience. "It's a classic, so most people are familiar with the show, but I hope that they fall in love with it all over again," she said. "And that, as usual, they are proud of our students."