Downingtown West v. Neshaminy football recap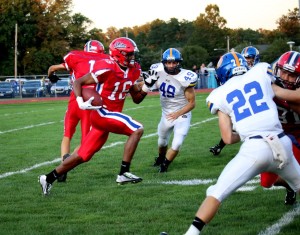 Neshaminy's Varsity football team opened up their second game of the 2015-2016 season on Friday, Sept.11 against the Downingtown West Whippets.
Playing started with Downingtown on the south end of the field, after they had won the coin toss, and decided to have possession starting in the second half. Neshaminy started and number 16, Denzel Hughes, ran the ball from where he catches it, somewhere around Neshaminy's 15- yard line, all of the way up to the Whippets' 44-yard line before he is tackled.
The ball started again with a pass by Mason Jones to Zach Tredway. This was followed up by a punt by Dylan McDonald from the 7-yard line. Whippets' number 30, Michael Riddick, returned the kick with an 81-yard run. Riddick then made a touch down with ten minutes still left in the first quarter.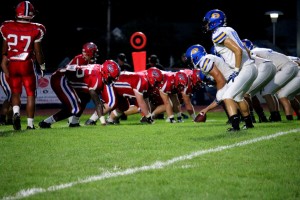 This cycle repeated its self throughout the game. Great efforts on the part of Neshaminy, overshadowed by Downingtown. The game ended with a score of (14-20) Downingtown West, close to an hour later. Neshaminy's touchdowns were scored by Jones with a pass from Tredway, and by Dogba on a run.
Highlights of the game include an interception by Tredway at the Neshaminy 1-yard line, which prevented the Whippets from scoring another touchdown, and tackles by Ben Stern, Hunter Kelly, Dave Nuckles, and Dalton Fox.
"It was a tough loss," Neshaminy Special Teams Coach, David Ferrara said. "Downingtown West is a good team. We need to learn from our mistakes and play better, especially in the first half."