Egg prices (Taylor's Version) 
Taylor Swift's fan base, famously known as the Swifties, have proved themselves worthy of not only holding the power to protect the country but they also have proved their devotion to Taylor in the most unique ways. 
Recently at this year's Grammys hosted by Trevor Noah, he interviewed Taylor Swift briefly, having some light fun talking about her fans. 
Trevor Noah; Taylor, you have the best fans, what they did with Ticket Master is amazing.
Swifties had recently gone to war over Taylor Swift's "The Eras Tour" tickets, demand for the presale managed to crash the site and even led to a lawsuit with Ticketmaster after being misled about the tickets. 
Taylor Swift; There's nothing they really can't accomplish.
Noah kept poking fun at her council, truly curious if they could do anything she said. 
Trevor Noah; I wonder, could you get them to handle the price of eggs?  
A strange favor to ask, but the Queen found this task beneath her fans, getting herself a drink in the middle of the interview. 
Taylor Swift; They'll get on it, just let them know what you need.
The Grammys were hosted on February 5th, so Swifties had got their transmissions and were starting to confirm their compliance. 
"Mother Called" Duolingo, a famous language learning app, confirmed. 
"Swift Nation we have a new mission wake up,"  One fan commented.
"We've got this handled," Another fan established. 
In 2020-21 prices increased $1.79, which wound up to $4.75 total, costing customers to spend that average for a dozen eggs each time. 
In December 2022, egg prices fell, but as said before, in the years prior, they were more expensive than any other consumer items. Yet at the beginning of 2023, the prices did fluctuate but ended up falling back down again, and fingers are being pointed at the Swifties.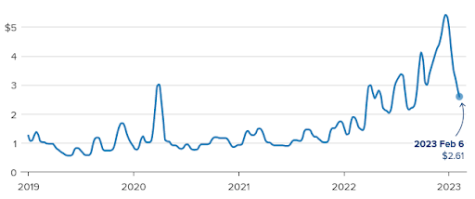 February 7, just 2 days after the Grammys, egg prices had drastically dropped. Shocking people around the world and many of the fans themselves. We can only imagine the faces of grocery store employees watching people swerve out of the egg aisle. 
"Swifties should get paid for lowering the price of eggs I'm just saying," Someone tweeted.
"When I google the price of eggs and there isn't a handwritten note from joe biden thanking Swifties for lowering prices," Another fan commented. 
Swift hasn't spoken about the egg debacle since the Grammys but we can only imagine sipping wine and cuddling her cats is how she's celebrating another mission completed.