Neshaminy stands up 'For The Kids'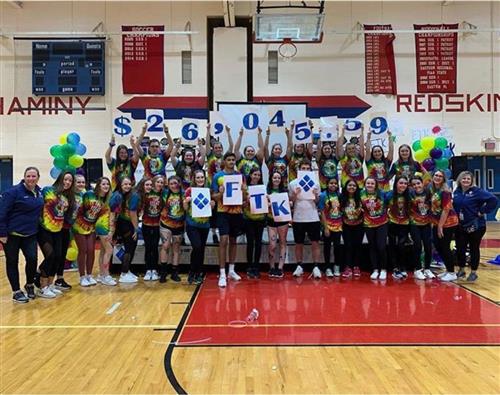 For the Kids! On Friday, January 14, students from all grades at Neshaminy High School joined together in Gym Three and stood for six hours. Why? To raise money for children fighting cancer.
The students started off Mini-THON with relays and individual "backyard" games set up around Gym Three. They were then taught the 2022 line dance where a popular song's lyrics are changed to reflect the current year and the cause, and the choreography of the chorus is taught to the students. This year, the song of choice was "Party in the USA" by Miley Cyrus. They did the line dance once every hour, to keep spirits high and bodies upright.
They then competed in a dodgeball tournament, where teams of around eight people competed against each other.
The winning team played students who had recently participated in the Mini-Mini-THON at the middle schools.
The pass-time of the event was dedicated to periods of dancing and taking breaks to eat the food that was offered.
There were also games such as matball, jeopardy, and run to the mic, which ended with a large group of people yell-singing to "All Too Well (10 Minute Version) (Taylor's Version)" by Taylor Swift.
At the very end of the event, it was revealed that the total donation "For The Kids" was $27,697.85. People cheered, and when the six hours was up, everyone was grateful to finally be able to sit down. The students felt good about what they had done, but their legs were the most relieved.