Give a cheer for Black History Month
During the month of February, many find themselves hyper-focused on Valentine's Day: finding dinner reservations, getting a date, sending flowers. But, with February comes a much more important celebration: Black History Month.
Starting on February 1, the celebration of black history is recognized internationally by western countries such as the United States, Canada, and the United Kingdom.
Neshaminy senior and cheer team captain, Jaedah Davis, has thought a lot about how Valentine's Day consistently overshadows such a prideful month for her.
"I would like to see more people aware of [Black History Month]," Davis explained. "People forget because of Valentine's Day. It may not be a big deal to others, but me and my friends make it such a big deal."
Davis is certainly not the only one who has noticed this, however, she has some ideas as to why this may be.
"Valentine's Day is about love and there's a lot of love in this school," Davis continued. "Valentine's Day is a really big deal here, but it definitely overshadows [Black History Month]. I also don't think people really understand the holiday."
For Davis, being a role model for other young black girls is one of the most important things in her life.
"I know when the middle schoolers come up, they don't ever really have a face for them to be like, 'Oh, if she can do it, I can,' and that's why I'll go to Maple Point and help the cheer team out," Davis explained. "Because there are so many African American girls on the team."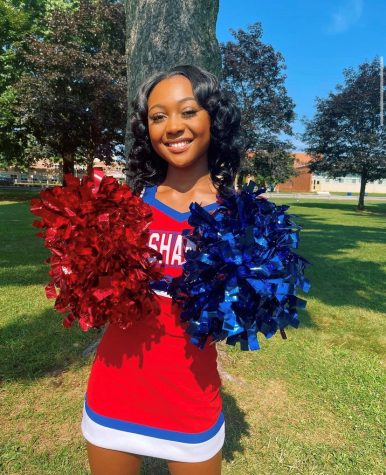 Though Davis is a senior this year, she left with some impactful words that everyone can benefit from during this month of celebration.
"Honestly, just keep doing what you're doing. It doesn't really matter what people think. Don't try to put up a front. Just be and embrace who you are."
Photo courtesy of Jaedah Davis