Waterparks comes to Philadelphia
The alt-rock trio, Waterparks, pulled onto South Street and into the TLA in the early morning of November 7, 2021.
Fans arrived waiting for what was for most of them, their favorite band. It was time for the Philadelphia shows for the 'A Night Out On Earth Tour' in which Waterparks was headlining.
Fans with VIP passes showed their tickets and vaccination cards in exchange for a red lanyard with a picture of the band on it, accompanied by "Welcome to your night out" written on the back of it.
Fans with these lanyards were let into the venue and lined up to meet the band who sported hazmat suits as a joke but mostly as a safety precaution. Eventually, the band came down to do a Q&A.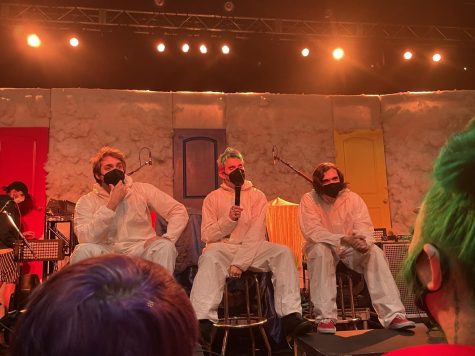 Photo courtesy of Lindsay Binder
The doors for general admission opened at 6 p.m. Fans began packing into the venue with their friends as they waited for the two
openers, Zeph and Phem.
Zeph came on stage first with her band at 7 p.m. at night. Her and her band played crowd favorites such as "Are You?" and "Un-unnoticed". She even leaked an unreleased song that made fans go wild.
Later, Phem came on stage to play their set. Phem had gained popularity on the tour with Waterparks fans due to her energy onstage and relatable lyrics that took on the topics of loneliness and self-worth.
At 8:30 p.m, the lights dimmed completely and fans heard a low bassy noise along with a ticking clock. Waterparks' drummer, Otto Wood, ran onto the stage accompanied by Geoff Wigington, the band's guitarist. They played the title track off their newest album "Greatest Hits" as they entered.
The song quickly ended without Awsten Knight (the band's frontman) and smoothly transitioned into one of their singles from Greatest Hits, "Numb". Suddenly Knight appeared.
The audience compacted and pushed together dancing as the crowd surfers began gliding over the crowd.
The performance included 20 songs and various interesting lighting choices that complimented each one. The band performed some old songs but mostly new ones which gave old fans and first-timers the range they were looking for.
The band rounded out the night with an encore consisting of "Turbulent" off of their album "Fandom" followed by the first song released from the Greatest Hits era, "Snow Globe". The night concluded with the last song off of the album "See You In The Future" and ended with Wood's drum solo before the lights dissipated, and they were gone.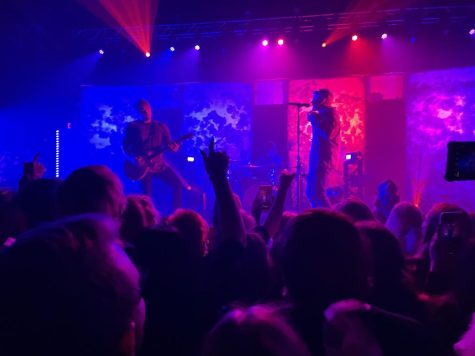 Photo courtesy of Lindsay Binder