Covid-19 restrictions ease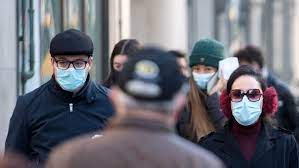 As everyone awaits the end of Covid-19, and it seems like we are in the home stretch. Pennsylvania and other states have begun lifting restrictions and requirements as cases have been decreasing and vaccinations have been increasing. Many are happy to get a sense of normalcy back to life, although some are still nervous about the virus spreading without these restrictions. 
In March, PA lifted travel restrictions and quarantining procedures, and Governor Wolf recently announced the plan moving forward. On Memorial Day, businesses did not have any limits on capacity and were not required to plan around 6-feet distancing guidelines, however, mask-wearing was still in effect. Fully vaccinated people are not required to wear masks in some situations depending on the event or business. Wolf also announced that mask-wearing will be fully lifted when 70% of PA adults are fully vaccinated, and as of May 24th, about 52% of adults were fully vaccinated. 
Most sporting teams are requiring 70% vaccination rates among their players before they can go maskless, and almost all sports arenas and stadiums have returned to 100% capacity with masks. Neshaminy has yet to make any public decisions regarding the next school year. Other school districts including Philadelphia School District and Council Rock School District have said that there will be no online option next year with everyone returning back to in-school learning. Council Rock has also announced that masks will be optional. 
Although most are happy to finally be able to see family members and friends without masks, many fear the effects of the lack of restrictions and what that will mean for cases. How are restaurants and stores supposed to know and trust that customers are vaccinated and don't have to wear a mask if they can't ask? Yes, I am fully vaccinated, but my brother isn't, should I still wear my mask? These are some common questions many are beginning to struggle with.
The CDC released an update where they confirmed that mask-wearing helps protect those around you, as well as yourself. Masks slow the spread of the virus which protects people around you, while also blocking the particles that infect people, protecting yourself. Recently, the CDC released more information and studies that show that vaccines prevent severe disease and slow infection rates. 97.4 percent of serious Covid-19 disease cases were prevented with the vaccine in Qatar, and only .0009 percent of people who received the vaccine in the US experienced a severe case of Covid-19 after receiving the vaccine. New data proves that vaccines prevent transmission, the CDC found a 90% reduction rate in asymptomatic transmissions in vaccinated scenarios. Long story short, the vaccine is showing good signs and working.
All in all, there is going to be fear about Covid-19 for a while, but with new guidelines and reopenings, it is important to remember that you never know someone else's personal fears and boundaries, so try to respect others.