How Covid-19 stole your sport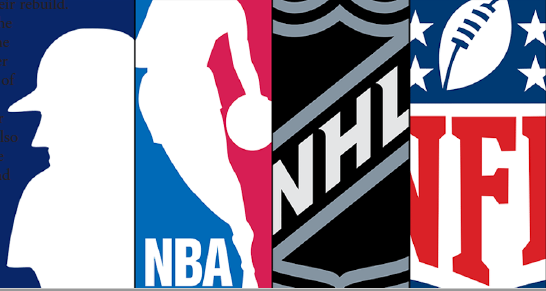 The National Basketball Association (NBA), National Football League (NFL), Major League Baseball (MLB), National Hockey League (NHL) are just some of the many sports organizations that have had to readjust and temporarily shut down due to Covid-19. When the outbreak on March 13, 2020, hit America, these organizations had their backs up against the wall losing millions upon millions of dollars that would take years to make up.
In a post-game interview with the Philadelphia Eagles coach, Doug Pederson was asked about how he was feeling and what the effects of him getting infected with covid-19 were.
"I feel great, energy levels high, and I have no symptoms whatsoever. It's hard because I must be away from my family [the team and his actual family] and that when I'm relieved of quarantine, then I will mask up. I'll be back when I'm back." Pederson said.
Controversy surrounded the NFL when they decided not to partake in a 'bubble' like the NHL and NBA because there were too many players and because they weren't in the playoffs. Players spoke out and felt that they were unsafe at the lack of precaution taken by the NFL.
Meanwhile, the MLB made some minor changes of their own while they slowly restarted their season. They extended the season, which continued into the playoffs, and the top seeds had no bye weeks, while they also had roughly 16 teams. No necessary precautions were taken for the players to stay safe. Despite their best efforts, the Los Angeles Dodgers had to remove one of their players from the game after they realized he had contracted Covid-19, but not before he had come into contact with a large number of players. Regardless of the confirmation of his diagnosis, he still celebrated the victory with his team on the field and put other players in potential danger. Players were also not permitted to see their families because they had either contracted Covid-19 or had to wait until they flew home.
In an interview with Dodgers pitcher Clayton Kershaw, he stated, ''I miss baseball, we [he and his wife] miss baseball. I want to stay home with her, but we both agreed that money needs to be made in order to have a roof over our head and clothes on our backs."
The NBA took months to select a place to host a 'bubble' for their season to continue. Their season was also extended with an extra 88 scheduled seeding games (eight for each team) along with the NBA playoffs and Finals. The NBA bubble required a four-day quarantine to ensure that no one had contracted the virus and there was to be no family contact until teams had made it past the first round of the playoffs.
In an interview, Lebron James stated that, "Obviously we're going to listen to whatever protocol is addressing this issue. We maintain our focus because one way or another we will see our families. The NBA put us in the position to be able to play the games and we need to be grateful that we have a chance to make money."
This was a colossal move for every player whose team was in contention. They had to decide whether or not they wanted to stay home with their families and potentially lose money. Some made the decision to stay, others decided to go. The players more importantly were protected and the NBA was right back on track towards their rebuild.
The NHL had a very similar situation as they unexpectedly followed the NBA blueprint and decided to spend precious time and money for a bubble. This turned out to be very successful as the commissioner of the NHL Gary Bettman commented, "We will figure this out. We've seen both sides of how we could play this whether we go with the bubble or just start up everything like normal. I really like their concept of a bubble I think that it's pure genius." The Women's National Basketball Association (WNBA) also followed suit.
"This is so much more than money. The NBA has all the heads, ears, and eyes but, we do this for the girls that want to have a chance to be something in this league and to silence the hate and sexism around them. To me, that's what the WNBA is all about, to me that's all that matters. The money will come second," commented WNBA legend Sue Bird.
Covid-19 presented all of these leagues with unique situations and concerns where all of them collectively lost trillions upon trillions of dollars, so give credit where credit is due. Even though some of the decisions were questionable, they ended up getting their players playing, paid, and protected.