What's wrong with Carson Wentz?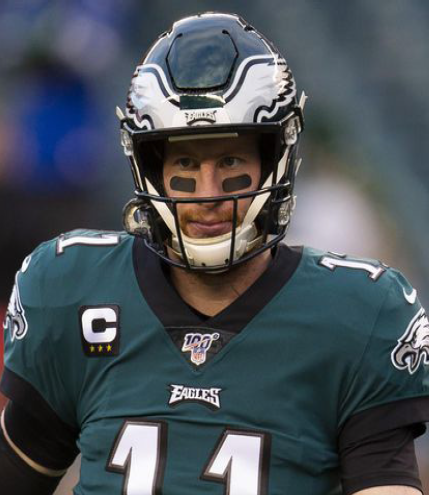 Like many others this season, I was particularly excited about watching football. With everything going on, it wasn't a certainty and it still really isn't, but when the first game of the Eagle's season kicked-off, I felt relieved. I finally had football games to watch and geek out over. But more importantly, the Eagle's looked really good on paper.
We finally drafted a receiver who could catch, our defense picked up one of the better corners in the league for a 3rd round pick, we were stacked on the defensive line. Sure we had some key injuries, such as Andre Dillard and Brandon Brooks who both had season-ending injuries, but we had pieces. The first half of week 1 went as planned. We were up by 17 and we looked unstoppable on offense. Then Wentz threw an interception. The momentum shifted. All of a sudden things don't look good anymore. Wentz was sacked 7 times and threw another interception. We collapsed and the Washington Football team pulled an upset over us. When Wentz threw his second interception, we all knew what was coming.
The weeks after have not been much better. Wentz is currently leading the league in turnovers. Wentz's stats this year, according to Pro Football Reference, are as follows: 114 completions (14th in the league) of 195 pass attempts (6th in the league) for 1,188 yards (6th in the league) with a completion percentage of 60.0% (30th in the league amongst players with at least 14 attempts per regularly scheduled game) 6 touchdowns (23rd in the league) and 9 interceptions (1st in the league) and a QB rating of 68.5 (32nd in the league). Before this season, Carson Wentz was considered one of the best quarterbacks in the league, managing to carry the injured Eagle's squad to the playoffs. With clutch wins over teams like the Packer's, Cowboy's, Bill's, and Bear's teams as well as going 4-0 to take us to the playoffs by winning the NFC East.
His stats that season are as follows: 388 completions (4th in the league) of 607 attempts (5th in the league) for 4,039 yards (9th in the league) with 27 touchdowns (5th in the league) and 7 interceptions (21st in the league) carrying a 63.9% completion percentage (17th in the league) bolstering a QB rating of 93.1 (13th in the league).
These stats were made even more impressive by Carson's lack of help around him. Nelson Agholor, a former first-round pick, was graded as the worst wide receiver that year by PFF, was his starting receiver until he got injured, DeSean Jackson did great for the single full game he played that season, and Alshon Jeffrey was injured a majority of the time. We looked at Wentz's season with pride and made fun of the Cowboys for failing to make the playoffs with a stacked roster.
Something's wrong with Wentz. He isn't making the reads he made last season, his passes aren't on target. So the question remains; why? I watched a lot of film reviews and I think I've figured it out. First and foremost, the offensive line is destroyed. There's no ignoring it, even if it feels like another excuse. Wentz has taken a total of 19 sacks in 5 games, Carson is getting killed out there. He currently is taking the most sacks in the league.
Wentz also has a lot of injured wide receivers, having all three of his starting receivers on IR. Even with those problems, he is NOT playing well at all. His passes have sailed over the heads of receivers and his interceptions this season have been downright awful. Wentz is no longer elite. He looks exactly like he did when he was a rookie, 4 years ago to this point. Most worryingly, his footwork is terrible. According to Samuel Gold, a film analysis YouTuber, Carson has messed up his footwork. In football, the way you throw heavily relies on how you set yourself. Carson is holding his feet way too far apart on throws. He can't pull his body through a pass fast enough to make an accurate pass. Wentz also is having a problem with his coverage reads. He consistently misses obvious man or zone coverage. Things are looking ugly. He also seems unfocused, according to Zac Taylor of Strong Opinion Sports, he is not making the reads he used to or making the easy pass he used to. I think a lot of people are easily assuming that Wentz is struggling with the mental effects of the Eagle's drafting Jalen Hurts. Similar to how he was overshadowed by Nick Foles, Wentz is slowly being overshadowed by Jalen Hurts.
With all of these issues, can Wentz be fixed? Yes, but the problem is we fixed it before.