Shane Dawson's Evolution: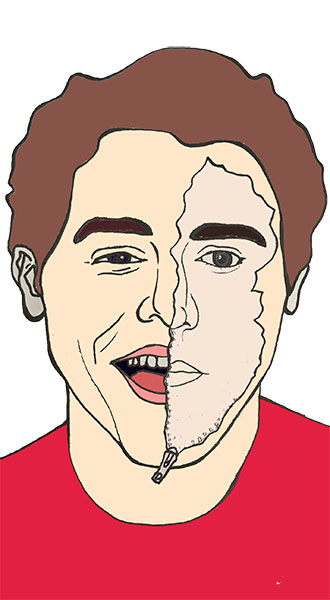 YouTube is home to all kinds of content for viewers to enjoy: makeup tutorials, unboxings, clips from popular movies, music videos, TV shows and so much more. From the millions of choices viewers have on the site, arguably most content is formulaic and repetitive. However, one creator in particular is seemingly changing the way content is produced and how viewers interpret it.
Shane Dawson created his channel back in September 2005. Since then, Dawson has garnered 4.5 billion views on his channel and has a sturdy following of over 18 million subscribers and counting. Dawson's channel has not only seen numerical growth, but his content has seen a newer and more mature tone as well.
As of late, Dawson has shifted his focus from reporting on beloved conspiracy theories and delivering his usual sarcastic comedy to looking into the minds and lives of individuals such as Tana Mongeau, Jeffree Star and Jake Paul, who have been publicly shamed for their many antics. While some credit Dawson with changing the way YouTube content is produced and viewed, many eyebrows were raised when some claimed that Dawson's series were biased and may have glossed over very crucial details, causing people to forget the racist pasts associated with those interviewed.
The question that arose among many viewers was whether or not people should let go of the offensive aspects of people's pasts. Neshaminy senior Acacia Gundy says, "I don't think that racism should be praised." Gundy goes on to say that the severity of people's past slip ups is dependent upon the erasure of said actions. Learning from those mistakes rather than doing the "same thing over and over again" also plays a large role in moving on and forgetting.
Mongeau was the first controversial figure to be the star of a serious series on Dawson's channel. After being demoted from being a featured guest at "VidCon", a popular video convention for all creators across all genres, Mongeau birthed her own revenge convention deemed, "TanaCon". Due to severe overbookings, the convention was a tremendous failure. Dawson, who was affiliated with the event, gave Mongeau the opportunity to clear her name and explain her side of the story on his channel, which would quickly capture the attention of the internet due to its content and style.
While fans appreciated the drama and the thoroughness of Dawson's approach towards the situation, critics weren't as quick to rejoice. With Mongeau's racism having been exposed in 2017, when video of her saying the n-word surfaced, many weren't surprised by her actions nor did they care about any sob story Mongeau could muster. Though she has since apologized for using the word, the internet is not forgiving.
When the series was released, many were quick to dismantle the sympathy that Mongeau and her team behind "Tanacon" had built. However, the warnings fell on deaf ears and, much like every other internet sensation, the excitement of the situation died down.
The second person to be center of a game changing series on Dawson's channel was makeup guru Jeffree Star. The series consists of five videos, each detailing a different aspect of who Star is, primarily showcasing to viewers his personal life as a successful makeup guru and hardships he endured in the past.
Coincidentally, Star has also been seen, on video, using hateful speech and racial slurs, especially ones targeted towards African Americans. Once "The Secret Life Of Jeffree Star" began receiving viral status and an abundance of praise, critics were quick to resurface the videos depicting Star's racism, so as to remind viewers of who exactly they were idolizing and giving their money to. The praise continued to flood in and once again, outcries were dismissed.
The most recent and arguably controversial series on Dawson's channel to date is centered around Jake Paul, an internet sensation known for being a public nuisance and wreaking havoc with his friends known as "Team 10". So when Dawson chose Paul as his next star, the internet was already abuzz.
Paul's series is identical in format to his predecessors, viewers hear about his upbringing, how it shaped him, and even get to hear from the people closest to Paul. However, Dawson's approach to this series was a bit different.
He wanted to be straight with Paul, adopting a no nonsense attitude contrary to previous videos. Dawson wanted to tell Paul, "This is why people don't like you. This is what you did that was bad."
Unfortunately, many felt Dawson really missed the mark with his approach. From his seemingly lackluster reaction to Paul's ex Alissa Violet opening up about past abuse she experienced at the hands of Paul, to not grilling him hard enough when discussing the accusations of racism he received from former "Team 10" members Ivan and Emilio Martinez, who are from Spain and speak English as a secondary language.
The Martinez brothers allege that Paul referred to them with racial slurs and would often bully them and take pranks too far. Paul reveals he didn't take too kindly to the accusations saying, "I am mad at them." The reason behind his anger being he showed the brother's a better lifestyle than what they were living. Paul recalls staying with the twins in Spain, deciding if he wanted "to sign them to Team 10." He told Dawson, "Their mom barely had any money, it was a bad area. I took them out of there, I saw potential in them, brought them to the United States, [and] literally taught them how to speak English."
Despite the backlash, many can appreciate the new style of Dawson's new videos. His series take viewers on a journey that they otherwise would never embark on. By sitting down one on one and allowing each individual to share their truth in a non judgmental environment, viewers get a different look into the lives of the people they look up to. They find out details of their lives such as their childhood and the motives or intent behind their actions that they otherwise may keep private. Actual topics of debate arise from his series that other videos don't typically spark.
Despite the heavy and justifiable backlash, fans of Dawson's series continue to crave and seek more content of this nature from him. The reboot of his channel has seen attention, negative or not, that his video reactions or sneak peeks into his own personal life have not. The national attention sparked a worthwhile debate that both critics and fans alike can engage in.