Alexandria Ocasio-Cortez: Breaking Records and Glass Ceilings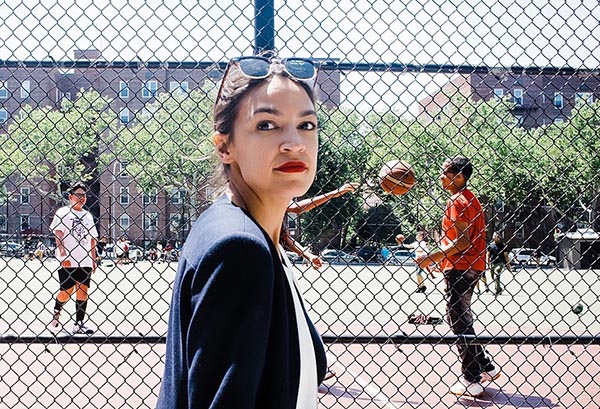 Kezia Joseph, Staff Writer
December 21, 2018
In January of 2019, Alexandria Ocasio-Cortez will be taking the oath of office to become a member of the U.S. House of Representatives. Every election is an important one, but this election is especially significant because Ocasio-Cortez will be the youngest woman to serve in Congress at the age of 29.
Some would say her road to success is certainly an impressive one. Born in the Bronx to Puerto Rican parents, Ocasio-Cortez's family moved to the suburbs of New York when she was young. She was an exceptional student, with honors that include winning second prize in an international science fair and participating in the National Hispanic Institute LDZ Youth Legislative Session while she was still in high school. She then went on to attend Boston University.
Ocasio-Cortez's professional career, as short as it has been so far, is just as impressive as her academic career. After graduating, she made ends meet by waitressing and bartending. During this period of time, she helped establish a publishing firm and participated in several educator positions in various foundations, many of which are connected to Latino backgrounds.
In 2016, she worked on Senator Bernie Sanders presidential campaign. Like the Senator, Ocaso-Cortez is also a Democratic Socialist. Working on the campaign and visiting afflicted locations across the country led her on a path of public service, providing the inspiration to start her own career in the government.
She stated that the fact that she was running at all was important—win or lose: "People need to get used to seeing young women, women of color, on the ballot," she said to Democracy Now.
Early in 2018, Ocasio-Cortez challenged the Democratic Caucus Chair, Joe Crowley, in the Democratic primary. Her campaign funding was substantially low compared to Crowley's.
About her campaign strategy, Ocasio-Cortez stated that "It's by expanding the electorate, speaking to those that feel disenchanted, dejected, cynical about our politics, and letting them know that we're fighting for them."
One controversial aspect of Ocasio-Cortez's political campaign and career has been her use of social media. With over 1 million followers on both Twitter and Instagram, she has created a large following and uses both platforms to promote her political goals and to fire back at critics. While there are many who use social media to attack her, some suggest that her popularity can be attributed to the image she has created. She uses her social media both for political purposes and to share parts of her own personal life—which creates a down-to-earth look, and in turn has made her popular with the younger generation of voters.
Her political positions are clearly progressive. She believes in the factuality of climate change and advocates for the US to switch to a 100% renewable energy system, the "Green New Deal". She wants stronger gun control legislation, including more effective background checks and the banning of assault weapons and bump stocks. She is a strong advocate of criminal justice reforms. She stands in support of the LGBT+ community, and has condemned the Trump administration's stance on immigration.
Ocasio-Cortez won the primary by 15 percentage points, a shocking win which brought her national media attention. The November election against Republican Anthony Pappas was predicted to be an easy win, which proved to be true as the Democratic candidate garnered over 75% of the votes.
Cortez is one of at least 90 women on track to be elected into Congress in 2019, which is also a record number. The media has described the 2018 election as "The Year of the Woman."
When the election winner was announced, Ocasio-Cortez described her win as "the start of a movement," adding, "there's so much more to come."
The 116th Congress will convene on January 3, 2019, and Ocasio-Cortez will be representing New York's 14th Congressional District.