Student athletes hard at work, even during off-season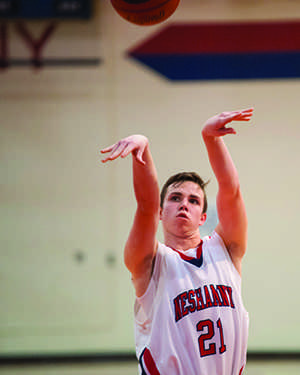 Beep, Beep, Beep! It is the middle of July and Cameron Jeffers' alarm is ringing. It is time for him to wake up and go to the gym before his scheduled basketball practice this afternoon. Most high school sports require a full-year approach that gives students little to no off-season.
"During the summer we would work out two to three times a week," Rebecca Lehman, a runner for the Neshaminy track team, said.  
In the fall, the Neshaminy boys basketball team practiced four days a week: two days of conditioning and two days of basketball skill work.
Being a student-athlete at Neshaminy takes dedication, hard-work and time management. Most teams spend the whole off season lifting weights, conditioning and improving skills. It is a much bigger commitment than the three-month season than some may think. Even during the season, practices run long, and the majority of teams watch scouting film on their opponents.
"Balancing school and sports is very tough, especially being in honors classes," Jeffers said. "There are many long nights spent doing homework and watching film."
The biggest thing to remember is "Student comes first."
Math teacher Theresa Carberry understands the challenge that is presented to student athletes. "I feel that I have tolerance for student-athletes," she said. "I appreciate when they let me know ahead of time if they have to leave class early so that I can be sure I get their homework and make sure they have their new assignment. I appreciate if they make up missed worked as this is obviously in their best interest."
Carberry also believes that the student-athletes are more invested in their studies. "They seem to want to do well because they know there may be a loss in the opportunity to play if they do not do well," she said. She also believes athletics provide "a great opportunity for students to get a higher education as long as they are given the time to put into their education and are required to make good grades and keep their education a priority."
Student-athletes feel that they are benefitting in the classroom from their time spent on a team. Jeffers said has learned time management. "You really need to plan your weeks and days and know what needs to get done, and get it done in order to keep your grades up," he said.
Also, there is a bond built between teammates. "My favorite part of athletics is easily the friendships," Jeffers said. "I feel as if I have made lifelong friends on the court at Neshaminy. I love having fun as a co-founder of Triple M (Neshaminy's newly popular "bench mob") and getting to play varsity basketball is awesome."
Lehman feels that being student-athlete at Neshaminy is very fulfilling. "I love being an athlete because I have made forever friends, gained valuable skills and have had the opportunity to represent Neshaminy in a sport I love," she said.