Women march on Washington in opposition to new administration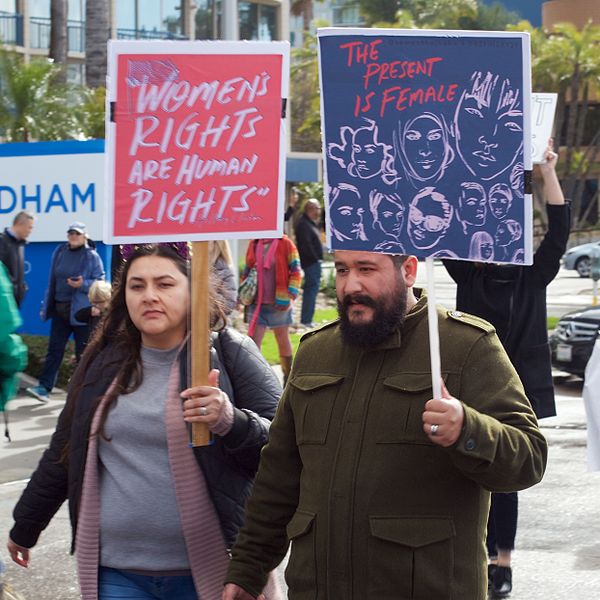 Advertisement
After the inauguration festivities wrapped up on Jan. 20 to celebrate the newly elected Pres. Donald Trump, millions of men and women gathered in the nation's capital and other cities across the United States to rally on Pres. Trump's first day in office. The event was held to highlight the degree to which the Pres. has unsettled people domestically and internationally.
A major cause of the march was a demonstration in support of women's rights and civil rights. However, clear undertones towards the newly elected president were also connected to the march.
The turnout into the capital was so large that the designated march route along the National Wall was impassable. Protesters were told to make their way to the Ellipse near the White House by way of other streets, causing a chaotic scene in downtown Washington.
As marchers walked the streets of Washington D.C., many with pink hats and signs, they chanted, "Welcome to your first day. We will not go away." The Washington rally alone attracted over 500,000 people with similar marches in cities in New York, Philadelphia, Chicago and Los Angeles to Mexico City, Paris, Berlin, London, Prague and Sydney.
The rally featured speeches from Madonna; actresses America Ferrera, Ashley Judd and Scarlett Johansson; women's rights activist Gloria Steinem; Planned Parenthood President Cecile Richards and director Michael Moore. A large group of senators and politicians also took the stage at one point during the event, including Rep. Debbie Wasserman Schultz of Florida and Sen. Cory Booker of New Jersey.
Neshaminy alumni Zoey Joyce also attended the march on Washington D.C., and described the crowd as ever increasing and positive. "We had lots of positivity toward women, members of the LGBT community and people of different races." Joyce stated, "There was a small group I encountered that actually gathered to sing at the march. It was very touching that they were compelled to speak out in such a peaceful but powerful way."
Joyce was motivated to take part in the march based on the speech and actions that have happened in the past few months from politicians and the current president. She said, "I believe that the event was successful but not at what it was created for. It set a tone for future matches and protests by showing the general public that we can peacefully assemble and be heard. It also showed that it's better to get out there and try than to worry about those worse scenarios and not attending. I believe it's integral for that same crowd to continue being socially and politically active in our government and I think this was a stepping stone toward that possibility. "
Steinem suggested that the size and energy of the event was a positive result of Trump's election and inauguration. "This is the upside of the downside. This is an outpouring of energy and true democracy like I have never seen in my very long life. It is wide in age. It is deep in diversity," Steinem said.  The activist also praised "our great leaders" Barack and Michelle Obama, Sen. Bernie Sanders and Hillary Clinton and their support for women's rights.
Hours after the event ended, demonstrators continued to march and chant down the streets of the city, some with homemade signs related to Hillary Clinton, Pres. Trump's campaign rival. One read, "Lock him up," flipping a chant Trump supporters directed at Clinton during the campaign. Another read, "Still with her," a play on Clinton's campaign slogan. Several "Stronger Together" signs were displayed as well.
Although not present at the rally, Clinton turned to Twitter to give her support posting, "Thanks for standing, speaking & marching for our values @womensmarch. Important as ever. I truly believe we're always Stronger Together."
"We march today for the moral core of this nation, against which our new president is waging a war," Ferrera told the Washington crowd. "Our dignity, our character, our rights have all been under attack, and a platform of hate and division assumed power yesterday. But the president is not America … We are America, and we are here to stay."