Bob Dylan receives Nobel Prize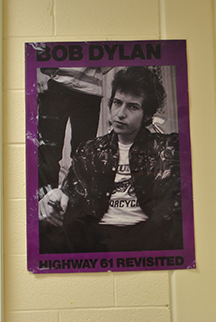 For the past two decades, Bob Dylan has been continuously nominated for the Nobel Prize in Literature. Finally, on Oct. 13, 2016, the Swedish Academy, one of the Royal Academies of Sweden in charge of choosing the recipient of the Nobel Prize, elevated this nomination and selected Dylan as the winner, though not without controversy concerning the songwriter's initial silence and literary credentials.
Though Dylan informally acknowledged and accepted the award on Oct. 28 and claimed to have been left "speechless" by his win, the two-week period following the announcement where he remained silent on the  subject left many confused and even angry, especially since Dylan qualified as the first songwriter to win the prize. Due to this silence, Dylan's official acceptance was left up in the air. One Swedish Academy representative even called Dylan's inaction "impolite and arrogant," according to Discover-USA.
Notable literary figures and musicians who support the Swedish Academy's decision include Joyce Carol Oates, a distinguished author who recently received the National Book Award, and Lin-Manuel Miranda, an American playwright whose latest musical, "Hamilton," became a Broadway blockbuster and won the Pulitzer Prize for Drama.
Other commentators, however, were less enthralled. Anna North of The New York Times, for example, criticized Dylan's selection as a "(missed) opportunity to honor a writer."
Two noted Dylan-ologists of Neshaminy, however, disagree with this assessment. Mr. August, English teacher, thinks that Dylan "absolutely deserves to win based on his entire body of work" and his crafting of "some of the most beautiful poetry even penned." Mr. Stoner, a social studies teacher, feels similarly and wasn't surprised by Dylan's win at all.
No matter the variance of opinions on the matter, Dylan's selection as Nobel Laureate sets a radical precedent concerning the Nobel Prize in Literature and honors the most influential and acclaimed American musician of modern times.