STD rate reaches all-time high in U.S.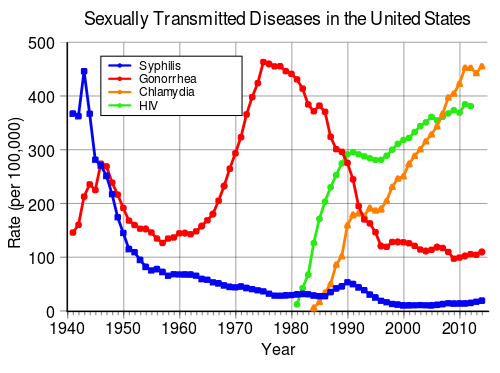 Advertisement
110 million Americans have an STD or STI at any given moment- and many are not aware if they are infected when symptoms do not show. According to the Centers for Disease Control and Prevention (CDC), there were more reported cases of sexually transmitted diseases (STDs) last year than ever before in the United States. Three major STDs, chlamydia, gonorrhea, and syphilis, have reached an all-time high after increasing between 2014 to 2015.
Statistics from the CDC show that the number of primary and secondary syphilis cases rose the most in 2015, up by 19 percent from the previous year. Gonorrhea cases rose by 12.8 percent, and chlamydia cases rose by 5.9 percent from 2014. Although these diseases are curable with antibiotics, many of these diseases are left untreated or undiagnosed.  CDC officials reported that young people and gay and bisexual men have the greatest risk of contracting STDs.
"It concerns me that so many people are diagnosed with high-risk diseases. I hope something can be done to prevent the rates from increasing," said junior Jessa Raab.
More than 1.5 million cases of chlamydia were reported to the CDC in 2015, and two-thirds of the cases were from teenagers or young adults ages 15 to 24. Women are at risk as chlamydia can damage their reproductive system if left untreated, affecting pregnancy and increasing the difficulty for women to produce an offspring. It was the highest annual rate of a medical condition ever obtained by the CDC.
Meanwhile, 395,216 cases of gonorrhea were reported last year. Even though this rate is lower than that of chlamydia, this particular STD is concerning since it has become progressively complex to treat. This past July, scientists at the CDC revealed that the bacterium causing gonorrhea, called neisseria gonorrhoeae, is developing resistance to the antibiotic drugs used to treat it.
Syphilis had the biggest rise of the three main STDs and was reported to be present in 23,872 people. Symptoms can include blindness, stroke, and stillbirth. Newborns born with syphilis have increased by 6 percent between 2014 to 2015, resulting in 487 reported cases in 2015.
"The health outcomes of syphilis — miscarriage, stillbirth, blindness or stroke — can be devastating," Dr. Gail Bolan, director of the CDC'S Division of STD Prevention, said to CNN in the article 'STD rates reach record high in United States.'
Twenty-one health department STD clinics across the country have closed down due to budget cuts. The decrease in clinics leaves fewer people to access testing and quick treatment resources. In addition to this alarming decline, more STD cases are emerging; treatment for these infections can cost the country nearly 16 million annually.
"I hope we will be able to find a way to provide treatment to all the people who are diagnosed with STDs and see improvement in these rates," said junior Amber Kim.