Apple releases newest iPhone
Everyone is buzzing about the release of Apple's newest products: the iPhone 7 and 7 Plus, both of which boast several drastic changes.
The iPhone 7 features a 4.7 inch display, while the 7 Plus has a 5.5 inch display. Both phones are 25 percent brighter than the iPhone 6s and include speakers with increased dynamic range. Replacing the 16GB storage option are the 32, 128, and the 256GB choices.
Colors include the ever-popular rose gold, silver, gold, and black options, with the new jet black replacing space grey.  The jet black option has a matte finish, while black has a hi-gloss finish. Apple has recommended buying a case for the jet black option, which does not offer the 32GB choice,  as it is more prone to scratches than standard finishes.
The iphone 7 and the 7 plus are now water resistant; they can survive up to one meter under water, for up to 30 minutes. The home button no longer clicks; instead, it simulates using vibrations from the user's finger. Touch ID is still in use.
The iPhone 7 Plus now has dual cameras on the back to improve the zoom quality and allow for depth of field. For example, if a picture of a person is taken up close, the camera will focus on the face and blur out the background, also known as the bokeh effect.
Both phones now use Apple's most powerful processer ever, the A10 Fusion processor. The company claims that, as a result, both battery life and graphics and have improved greatly.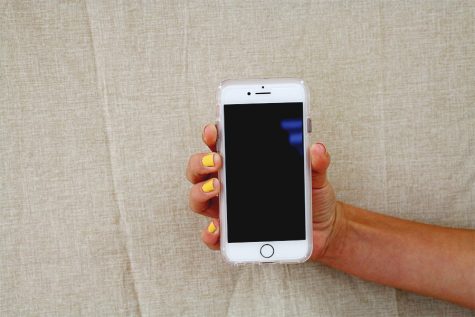 Grace Marion
Perhaps the most drastic change to the new model of the iPhone is the lack of headphone jacks. Instead, iPhone 7 and 7 Plus users will have to use the new Apple Airpods, or use a lightning adapter to utilize current headphones. This change has received mixed reviews.
Apple is including a lightning to 3.5mm headphone jack adapter in the retail box, so headphones can still be used. However, these headphones will not be able to function while the iPhone is charging.
The initial retail box will include EarPods with a lightning connector, a lightning to USB cable (for charging the iPhone), a 5W USB power adapter, and of course, a new iPhone 7 or 7 Plus.
Both phones were  released on Sep. 16, 2016, with the iPhone 7 starting at $649 and the 7 Plus starting at $769.