Sportorial: Taking a stand by not standing at all
Maggie Aldrich, Sports Editor
September 30, 2016
Day by day, people of color experience exorbitant amounts of racial discrimination throughout the country and throughout the world. Almost everyone faces it at some point, but very few do something about it.
Colin Kaepernick, quarterback for the San Francisco 49ers, chose to do something about it. Not gaining national attention until week three of preseason, he made the courageous effort to sit during the national anthem in a silent protest for the racial inequity and police brutality towards people of color in America.
"I am not going to stand up to show pride in a flag for a country that oppresses black people and people of color. To me, this is bigger than football and it would be selfish on my part to look the other way," Kaepernick said in an exclusive interview after the game to NFL Media. "There are bodies in the street and people getting paid leave and getting away with murder."
It is easy to see how people of color are treated by the police as opposed to Caucasian people. From the deputy in South Carolina who flipped a student at their desk, to the police officers in California who strangled a student to the ground for jaywalking, it is clearly a major issue in society. Police violence is especially deadly towards African-Americans; the Washington Post revealed that in the year of 2015, unarmed African American men were seven times more likely to be killed by police than unarmed white men.
Kaepernick has inspired others to protest against the cause–some kneeled while others raised their fists. Players taking a stand include Kenny Stills, Michael Thomas, Arian Foster and Jelani Jenkins, who are all from Miami. Even Jeremy Lane of Seattle, Brandon Marshall of Denver, and teammates Antoins Bethea and Eli Harold joined Kapernick in his protest.  It has also become a trend in high school and college level sports. The chain of players continues to grow in this fight for justice.
Along with the protests, Kaepernick will donate $1 million of his $11.9 million dollar salary per year to organizations that focus on social and racial injustice, according to USA Today.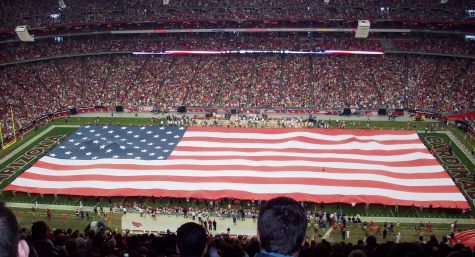 While some believe Kaepernick is showing disrespect towards the country and those who serve, in reality he has gained respect from a number of veterans through twitter. It has even turned into a trending hashtag called #VeteransforKaepernick.
Kaepernick clarified that his protests are by no means of disrespect towards the military. "I have great respect for the men and women that have fought for this country, I have family, I have friends that have gone and fought for this country. And they fight for freedom, they fight for the people, they fight for liberty and justice, for everyone," Kaepernick told the Daily News.
Since America is "the land of the free," Kaepernick and those who follow have the freedom to continue their protest. Standing for the anthem should be a choice, not a requirement, that citizens have the right to decide on their own.