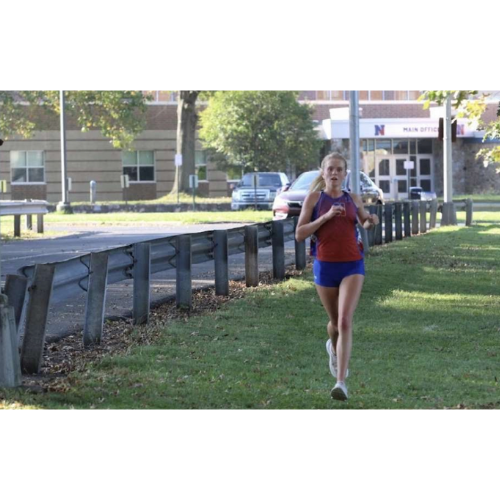 The crowd roars as she crosses the finish line. Coaches, teammates, and fans alike were all flooded with immense joy. NHS Senior Kate Bradish's demonstration of ability to run Cross Country even under pressure had helped her not only become a state qualifier but also almost break the school record with her times. Bradish, a part of NHS's Cross Country team, had just finished competing for Suburban One League (SOL) Champion.
Already racking up a record, Bradish has competed in many different competitions ranging from PTCX 14 at Kutztown University to her most recent win at the SOL. Achieving second place during the Women's 5000-meter and Girls' 5000-meter Run (National) with a time of 18:46:70, Bradish blew away the competition.
Holding the record for not only first place in the 1600-meter Run but also the 3200-meter Run for SOL, Bradish has been a part of the cross-country and track team for two years now.
When asked about her emotions behind this tremendous win for NHS, Bradish said she was joyous. "I was definitely really happy about it because last year I definitely wasn't anywhere close to even being like top two or three," Bradish explained, "I was like eighth last year…"
Story continues below advertisement
But how did Bradish go from eighth in the district last year to second place nationally this year? According to her, time and effort was the key. With her junior year being Bradish's first year in the sport, she had a lot ahead of her. With constant training, she has been able to get to this level.
Many find changing sports to be difficult, but some changes are for the better. Many different factors can play into a person joining or changing a sport. Bradish explained how much her mother impacted her decision to join Cross Country.
Bradish explained, "…honestly, my mom's just what pushed me to start [be]cause she used to run in high school. She's been a really big impact."
Every great athlete has to start somewhere. For Bradish, it wasn't on the track field, it was on the softball field.
After getting cut from the softball team after playing for 10 years, Bradish went for a change of pace. However, changing from one sport to another has its challenges. Not only did Bradish have the challenges of the sport itself, but for her, the issue was motivation.
"The main struggle was like learning to push myself and the motivation behind it, [be]cause that was really hard. Like the summer training was the main thing that got to me and got me where I am right now," Bradish noted.
From a rough start to champion within two years, Bradish has shown how much her sport means to her. She has demonstrated that, with dedication and motivation, she can win it all. By pushing through the struggles, she has been able to accomplish many battles, but she doesn't want to stop here. With plans to attend James Madison University, in Virginia, Bradish has a shining future in cross country.
"I didn't really want to start honestly, but once I started, I fell in love with the sport," exclaimed Bradish.