Government, for or against the people?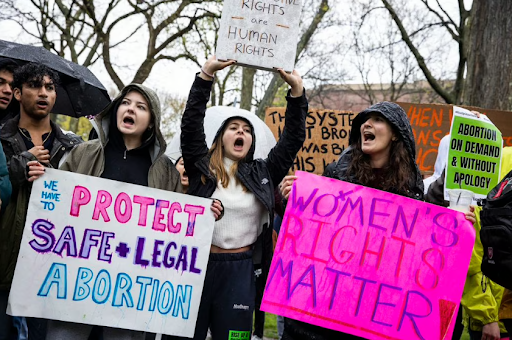 As a nation, we are in the midst of a mental health crisis, high inflation rates, and are coming out of a global pandemic that left many Americans grieving. However, it's as if the government is more concerned about making headlines rather than helping its people. 
One politician, in particular, stands out when it comes to having a reputation for harmful and pointless legislation.
A perfect example of this is when Ron DeSantis, Governor of Florida, made headlines last year following his "Don't Say Gay" bill. Most recently, he is making headlines for signing a six-week abortion ban into law. 
"We welcome pro-life legislation," DeSantis stated when asked about the ban. 
However, this ban is not the only time his personal agenda has been intertwined with legislation. Earlier this year, DeSantis rejected a new AP African American History course. 
"We believe in teaching kids facts and how to think, but we don't believe they should have an agenda imposed on them," DeSantis said. "When you try to use Black history to shoehorn in queer theory, you are clearly trying to use that for political purposes."
As well as his attack on the inclusion of queerness in history, DeSantis also said that the course lacked "educational value." 
However, who is he to make that decision for students? Florida already ranks among the worst in education, so maybe he should focus on fixing that first before he dictates what he deems to be valuable to a student's education. 
Unfortunately, this view that "wokeness" needs to be crushed has become the basis for legislation nationwide, distracting politicians from important issues.
Last year, the Supreme Court overturned Roe v. Wade. This came as a shock as abortion rights had been protected for almost 50 years. 
As we have seen, 24 states have already banned, or nearly banned, abortions. Yet, the Pew Research Center says that 61 percent of people support the right to an abortion. It does not make sense that legislatures are completely disregarding the will of the people when this issue impacts so many Americans. 
A Republican representative, Nancy Mace from South Carolina, disagreed with the newest abortion ban in Florida, knowing that it would have negative repercussions. 
"We haven't learned anything if we're going to assign a six-week ban, mandating rape victims report to the police to get an exception and do it in the dead of night," Mace stated. "That is not where the American people are."
It is interesting when politicians have a never-ending devotion to the unborn but lack action for the living. 
So far this year, there have been 163 mass shootings. Very few states seem to be concerned, though.
DeSantis, again, has missed the mark and passed legislation that puts Florida residents at risk. On April 3, he signed into law House Bill 543, which gets rid of the requirement for a permit to concealed carry. 
Politicians want to say that stricter gun control laws have no impact on gun violence, yet what's the truth behind that? 
"I hate to say this, but there are more people who are shot every weekend in Chicago than there are in schools in Texas…" Governor Greg Abbott said following the Uvalde school shooting. 
"'Well, maybe if we just implement tougher gun laws, it's going to solve it,' Chicago and LA and New York disprove that thesis," Abbott stated, mimicking those in favor of gun control. 
This rhetoric that is spewed is not backed by research, though. The John Hopkins Bloomberg School of Public Health conducted a study that showed that 34 states with eased concealed carry laws saw a 10 percent increase in firearm-related assaults. It is almost as if gun regulation works. 
Instead of focusing on these important issues, politicians would rather focus on TikTok. 
On March 23, Shou Chew, the chief executive of TikTok, sat before the House Energy and Commerce Committee to defend his platform, as it is being questioned due to security concerns. However, the hearing showed the people a mess.
Chew discussed the new plan that would protect user safety data during the hearing called Project Texas. However, August Pfluger, a representative from Texas, had some choice words to say regarding its name. 
"Please rename your project," Pfluger said. "Texas is not the appropriate name. We stand for freedom and transparency, and we don't want your project." 
It is laughable the way these politicians carry themselves. It is almost as if they forget how much power they have.
After all, the government is supposed to be "of the people, by the people, for the people." So why does it not feel like it?