Finding Hank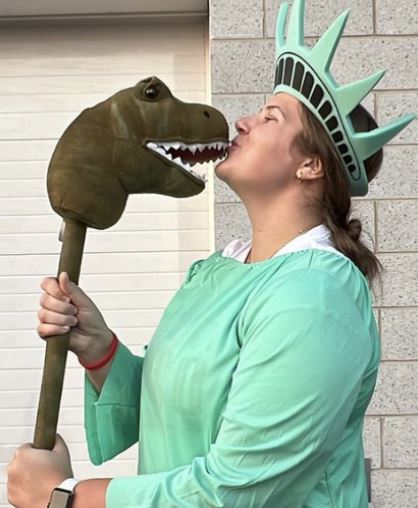 Zoe Shubin, Social Media Representative
November 21, 2022
Friday, September 9, Hank the dinosaur was brutally kidnapped during a Neshaminy football game at Downingtown West High School.
Hank, the dinosaur, is the Neshaminy softball team's mascot; more like a child to them, he has a permanent residency in the trunk of student/player Lindsey Gorka.
When arriving at the school, which had not let anyone bring props into the stadium, Gorka had put him in a cage with enough room to get him out.
"I feel upset because I put him in a secure place," said Gorka.
She later went back to retrieve him to find Hank missing.
"Came back from a football game that we were getting smoked in and he was gone," said Gorka defeated.
That weekend following the kidnapping, an Instagram page was made taunting Gorka and the rest of the Neshaminy softball team. The page was called Hank_Ransom; they posted vile photos of the torture of the beloved Hank.
Friends and family of Hank were horrified, and it only fueled the fire to find the dinosaur.
Gorka called on the neshbarstool Instagram page in the comment section of one of their posts to begin a formal investigation.
Gorka had figured out who had kidnapped Hank after tracking them down to their car when biking during gym major. She later revealed that it was a group of kids in the High school, scared to announce the names because of the high status of one member.
"I don't know if I can say them….because one's a gym night captain," said Gorka.
The captors and Gorka had come to an agreement to return Hank at the next football game. They later revealed themselves in a post with two members holding Hank up. The captors are Shannon Hughes, Charlotte Mcgeady, Grace Childs, and Nolan Burns.
Gorka was relieved to have Hank back and will never leave him unattended again.