Marching through the Madness
How the beloved basketball tournament came to be
March Madness is the beloved NCAA Men's Division 1 Basketball tournament that has occurred every March since 1939 (excluding 2020). 64 of the best college basketball teams meet in one city and play through a seeded bracket throughout the month of March to find out who's the best in the country.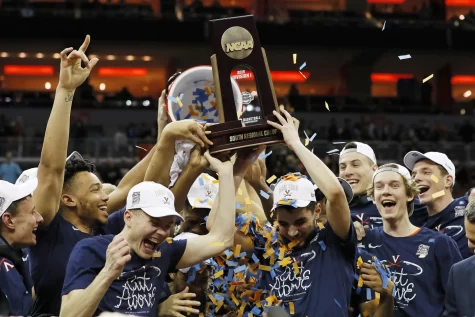 Photo courtesy of Kevin Cox
The Beginning The first tournament included only eight teams and happened in March 1939 on Northwestern University's campus in Evanston, Illinois. Illinois High School Official Henry V. Porter first described the games as "March Madness" as Oregon defeated Ohio State 46-33 to become the first March Madness winners in History. 
In 1946, the tournament was TV broadcasted for the first time by CBS in New York City. The estimated viewership is 500,000 people. For the first time, the final four teams all advanced to the final site to compete for fourth, third, second, and first place.
The tournament finally expanded in 1951, doubling in size to 16 teams, including 10 conferences, Big Seven, Big Ten, Border, Eastern (Ivy), Missouri Valley, Pacific Coast, Skyline, Southeastern, Southern, and Southwest. 
Two years later, in 1953, the tournament expanded to 22 teams and had 22 to 25 teams on the bracket up until 1974. 
The largest media group at the time came to the tournament in 1957 in Kansas City. Bringing in over 70 reporters who report out to the eager countries. This drew attention to basketball players and fans all across the country and so many more people got to enjoy the games. 
An Evolving Game
What is now known as the 'game change' occurred in 1963 when Loyola University Chicago prevailed from trailing 15 points behind the University of Cincinnati in the second half to rallying together to bring the game into overtime and pull out a win 60-58.
 This proved to everyone how intense this tournament truly is and how much madness really can come out of March.
In March 1966, Don Haskins and Texas Western University danced their way to a 72-65 victory over Kentucky University in the tournament championship. For the first time in NCAA history, all five of Haskins' starters were black. 
This opened a door of opportunity for so many players who believed they would never succeed because of their race or ethnicity. 
After 22 years, the bracket officially expanded again to 32 teams in 1975. This allowed opportunities for more programs across the country to gain attention and grow their school. 
Making History (1976-Present)
In 1976, Indiana University had what can be described as "The Perfect Season", going undefeated all season and making it to the championship game versus Michigan is all a team could ever dream of. However, IU struggled when their 6-foot-7 guard Bobby Wilkerson was taken off of the court unconscious after being "elbowed" in the head. 
The team rallied together after being down 35-29 at the half to pull out a second half that was more perfect than their season to win the game 86-68.
1979,  the iconic Larry Bird and Magic Johnson rivalry was born in Salt Lake City, Utah during the madness that is March. Their determination and agility were just what this tournament needed to gain popularity, and it sure did.
"Because we played the game the right way, we didn't play it for ourselves, we played it for our teams. We were two unique guys being over 6'8, being able to handle the ball, being able to score inside, and outside, and being able to make the right pass to our teammates," Johnson said years later. "Because we didn't really care about scoring, we cared about winning . . . and then you have one player black, one player white, one player smiling, one player who don't."
Buzzer Beaters
In 1983, North Carolina State danced its way to victory in what is still known as one of the greatest upsets of tournament history. The game was against Houston University and won by Lorenzo Charles off a desperation shot from 30 feet out by Dereck Whittenburg. The dunk and post-game celebration have been tournament media staples ever since.
The 1992 tournament is very well known specifically because of what is known as "The Shot." 1. Duke versus 2. Kentucky- battling for its spot in the final four. Grant Hill threw a full-court shot to Christian Laettner who then faked right, dribbled, and scored at the buzzer sending the defending Blue Devils to the semi-finals. In 2004 Sports Illustrated deemed it the greatest college basketball game of all time. 
Last but not least, in 2016, the Villanova Wildcats beat the North Carolina Tar Heels in the championship game because Neshaminy's own Ryan Arcidiacono assisted the ball to Kris Jenkins who shot, scored, and won it all for Villanova 77-74. 
It is very obvious that this tournament has brought many Marches full of entertainment and enjoyment. These moments have really proved what the madness is all about. 
"A basketball team is like the five fingers on your hand. If you can get them all together, you have a fist. That's how I want you to play," Mike Krzyzewski, Duke's head coach said.  
This is the March mentality; this is why people love it.