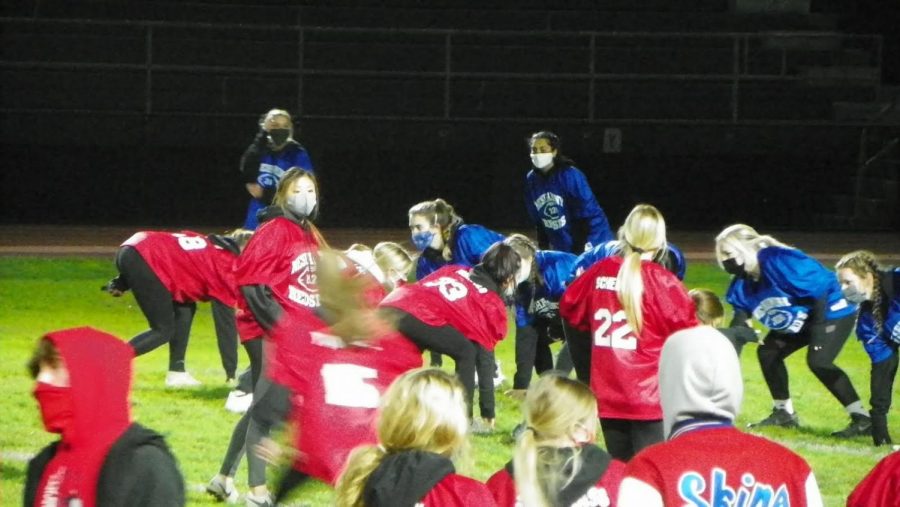 In the midst of the pandemic, Neshaminy students have wondered about the cancellation of many traditional events. Fortunately, Powderpuff 2020 proved to be a success. The red and blue players were required to wear masks on and off the field, and a limited audience that mainly consisted of the player's families helped this year's game run smoothly and safely. I spoke with red team running back, Jamie Ponticello, to learn about her experiences on the field and what she thinks might be next for Neshaminy events.
Q: What interested you in joining Powderpuff?
A: It was kind of an escape from everything going on. It was one of the few activities we could do together as seniors while being safe.
Q: Were there any challenges you had to overcome in practice?
A: The guys told us what to do.  They were very helpful when rehearsing plays. Not everyone got a chance to play the part they wanted to play because there were so many people. I think more people were drawn to [Powderpuff] this year because it was one of the few events going on.
Q: What did you think of the overall gameplay? Was it fun? Exhausting?
A: A little confusing at first. Towards the second half, adrenaline piped up and everyone was really into it. We really wanted to win.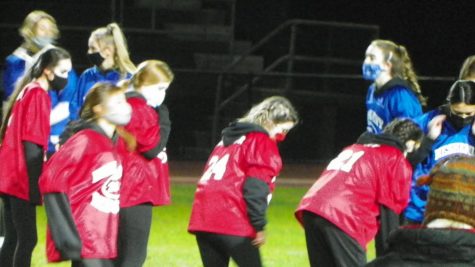 Q: How do you think the success of Powderpuff will affect other events at Neshaminy this year? Is gym night possible? 
A: Powderpuff showed that other events are possible. Practices were distanced, we wore masks. Gym night might be possible but maybe without partners and a lot more regulations. 
Q: What would you say to people who wanted to join Powederpuff but didn't?
A: It's understandable if they felt unsafe. In the future, they should participate more as long as they feel safe.
Q: Would you do an event like this again?
A: Definitely. I hope this showed the community that more events are possible even with what's happening. 
It seems that the future is bright for activities at Neshaminy. But with Covid-19 restrictions increasing across the country and more clubs starting to move to virtual meetings, who knows what the future holds. In the meantime, Neshaminy students should remain positive and keep coming up with new and creative ways to uphold these traditions in a safe and socially distant way.