Business students take on PFEW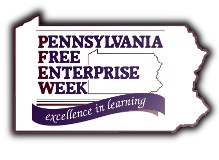 Pennsylvania Free Enterprise Week (PFEW) is a week-long summer camp that teaches students about business. 
The campers are put in teams of about 16, accompanied by an adult business mentor, with the mission of managing an underperforming manufacturing company. At the end of the week, they compete with other teams using a simulation.
According to the Foundation for Free Enterprise Education website, students can "… understand the vital importance of the American free enterprise system and their role in it… experience all facets of business operations, marketing, and finance as they unlock hidden strengths and talents, and forge a path for the future." 
Boluwatife Akinrinade was a PFEW leader when she attended the camp. She is a junior at Neshaminy High School who didn't know what she wanted to do after high school. After going to PFEW over the summer, she developed a love for business and working with people.
PFEW also expands students' resumes, adding more applicable activities a student has done.
It is different from other camps because students get a glimpse of college life. 
They get to live on a college campus for the week and step in the shoes of a college student. They can meet people from all over the state, and are treated as business professionals, interacting with a wide variety of mentors. 
No matter what career path people choose, everything relates to business. After students come back from PFEW, they will develop better teamwork skills, social interactions, and more efficient ideas for group activities. 
PFEW is open to all current sophomores and juniors in Pennsylvania. If you're interested in applying, you can visit the website for more information. Questions can be directed to Amber Goss, Schools Manager for PFEW by emailing her at [email protected].
Go nourish your love for business at the summer camp meant for people just like you!