In her Eras era
Taylor Swift begins her tour through her past musical eras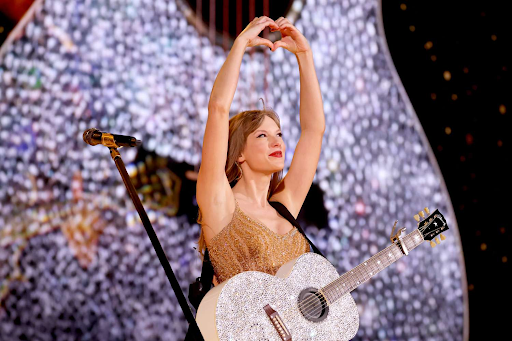 On March 17, 2023, Taylor Swift kicked off her 'Eras' Tour in Glendale, Arizona, with the first performance of 52 planned concerts. 
Swift's fans, also known as Swifties, had no idea what to expect when showing up to the first concert. How long was it going to be? What songs would she sing? How could she possibly cover all ten of her eras in one concert?
If you're wondering what the answers to any of these questions are, keep reading.
Swifties were delighted to find out that Swift's setlist consists of 44 songs, making the concert 3 hours and 15 minutes long, excluding opening acts which brings the show to around 5 hours. 
While each era gets a portion of the concert, they do not go in order of release date. Swift starts the concert with songs from "Lover", her seventh studio album. 
Of the 44 songs played during the show, two of them are acoustic songs that Swift changes for every show. Swifties refer to these as "surprise songs". 
For the first performance, Swift played the song "Mirrorball" from her album "folklore", and "Tim McGraw" from her self-titled debut album. 
However, during her concert in Tampa, Florida, Swift stated that she will be changing the "surprise song" rule when it comes to playing songs off her latest album, "Midnights".
"I'm making a little caveat to the rule," Swift smirked. "which is that if [a song] is on "Midnights", I can do it however many times I want, because "Midnights" is the most accurate picture of my life to date," Swift said. 
Another way that Swift keeps her fans on their toes is by switching up the outfits that she wears during the show. For example, the outfit that she wore for the "Lover" set on the second night was different from the one she wore on the first night. Since then, she has changed her outfits for many of the other sections of the performance. 
Swifties are not the only people who recognize how impactful and exciting this tour is. Cities that she's performed in so far have honored Swift in many different ways. Glendale changed its name to "Swift City", Arlington, Texas, made a street sign called "Taylor Swift Way", and Las Vegas, Nevada, illuminated their Gateway Arches for her. 
Her latest stop, in Tampa, Florida, was no different. The mayor, Jane Castor, gave Swift a key to the city and invited her to be honorary mayor for a day.
For everyone with tickets to a show, the anticipation of what "surprise songs" she'll play, what outfits she'll wear, and what the city is going to do for her is almost overwhelming. 
Whether you have tickets to one of the concerts or watch the show from a TikTok live stream, the 'Eras' tour is sure to entertain people around the world.